FLOORING
---
Home improvement starts from the ground up with stylish and durable flooring and tiles.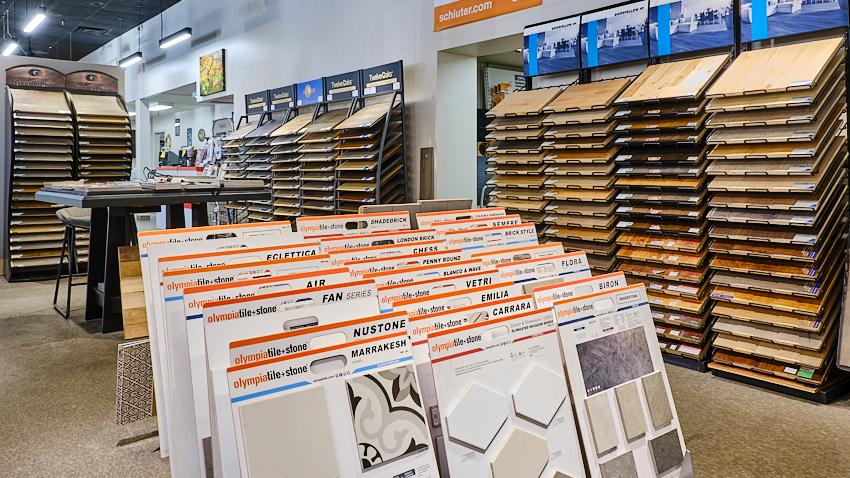 From vinyl planks and laminates to engineered hardwood and ceramic tile, your home's flooring makes a memorable impression. Make sure it's a good one with quality flooring and tiles. Looking for water-resistant and flexible flooring for high-traffic areas? Consider vinyl planks or tiles. Need a durable alternative to hardwood that resists fading? Check out laminate flooring. Both vinyl and laminate flooring come in a wide variety of colours and finishes to suit your space. And don't forget about low-maintenance ceramic flooring tile. It's tough, water resistant and comes in an impressive array of stylish designs. And for the traditionalists, select Canadian hardwood flooring or use engineered hardwood on any level of the house.
The Midland Design Centre typically carries over 25,000 square feet of flooring in stock. Not only Home Hardware flooring products, including the exclusive Scott McGillivray Vinyl and Advanced Engineered Hardwood collections, but also direct from suppliers such as Goodfellow, Eclipse, Shnier, with brands from Armstrong, Bruce,Taiga, InStyle, Corelogic and more.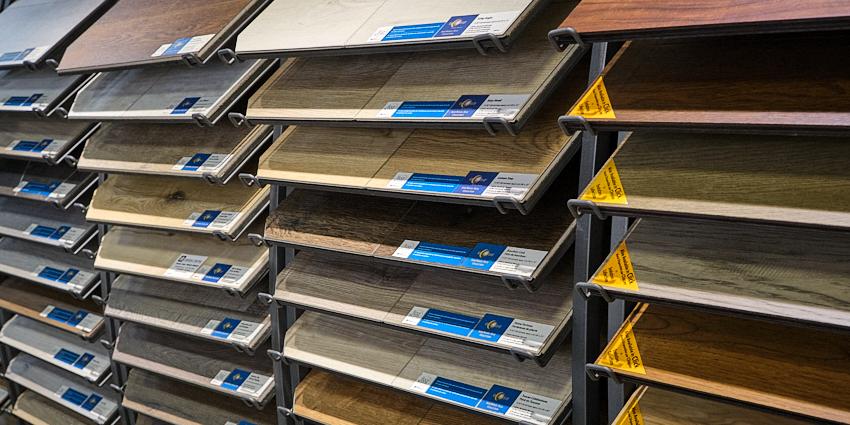 VINYL FLOORING
When hardwood floors and ceramic tiles won't cut it, opt for versatile vinyl flooring. Easy to install and to keep clean, vinyl floors are ultra-convenient. They are available as planks, tiles or sheet vinyl flooring so you can choose the floor that works for you.

A durable option, vinyl plank flooring works great in any high-traffic area of the home. Vinyl floor tiles are a good option in bathrooms and kitchens where moisture can be an issue. Vinyl flooring can be used on any level of the house, even the basement.

The Design Centre carries options for both click together or drop-in installation styles. Click flooring makes for an easy installation and often comes with bevelled edges for visual separation, while the drop-in style provides easy replacement in case of a damaged plank or tile.
LAMINATE FLOORING
Economical, durable and easy to install—it's no wonder laminate flooring is so popular. Laminate is a practical flooring solution for homes with pets and kids. Laminates are engineered for strength to help prevent scratches, dents, fading and stains. You can easily care for this low-maintenance flooring by vacuuming, sweeping or mopping. Want the look of hardwood without the expense? Laminate flooring is here for you. Laminate flooring is available in a wide variety of colours and textures to complement your home.
HARDWOOD & ENGINEERED-HARDWOOD
For a truly unique look to your flooring nothing beats natural Hardwood. Unlike vinyl and laminate, each plank is one-of-a-kind with no repeat over the entire span of your floor. Available in different widths and finishes, you'll find an incredible selection to choose the perfect look for your space.

Hardwood flooring is best used above grade while engineered hardwood may be used on any level. Some engineered hardwoods are also available as a click style for easier installation. The Design Centre has a wide selection of Canadian hardwoods to choose from.